WEEKDAY EARLY EDUCATION
Huntsville Campus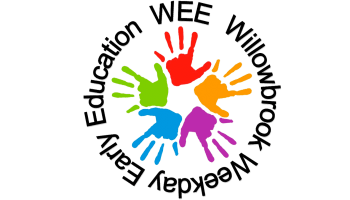 NOW ENROLLING
Call WEE at 256-382-5150 for more information.
WEE NEWSLETTER
Check out our newsletter here.
WEE is a half day preschool program that welcomes ages 6 months to Kindergarten. WEE has been serving the Huntsville area since 1972. WEE's primary goal is to show every family and child the love of Christ while preparing every child for school success.
What We Offer:
Contact WEE at 256-382-5150 or email us at wee@willowbrook.org. We encourage you to tour the school or speak directly to our director, Ashley Scott, at 256-382-5150 prior to registering your child.
Enrollment is based on a child's age on Sept. 1, 2022. Hours: 8:15 a.m. to 12:30 p.m.
All students must be up to date on vaccinations. WEE does not allow for religious exemptions.
Classes and Tuition:
• Lambs (6 months by 9/1) Tuesday and Thursday, $195/month
• Lambs (6 months by 9/1) Tuesday, Wednesday, and Thursday, $230/month
• Ducks (15 months by 9/1) Tuesday and Thursday, $195/month
• Ducks (15 months by 9/1) Tuesday, Wednesday, and Thursday, $230/month
• Twos (2 years old by 9/1) Tuesday and Thursday, $190/month
• Twos (2 years old by 9/1) Tuesday, Wednesday, and Thursday, $210/ month
• Threes (3 years old by 9/1) Tuesday, Wednesday, and Thursday, $190/ month
• Fours (4 years old by 9/1) Monday-Thursday, $210/ month
• Kindergarten (5 years old by 9/1) Monday-Friday, $220/ month
The registration fee for all programs is $150 for the 1st child, $75 for the 2nd, and $50 for the 3rd. This fee covers all supplies and in the 4s and K it covers field trips.
Additional Kindergarten curriculum* fee: $100 (non-refundable)
*NOTE: WEE Kindergarten uses McGraw Hill Wonders curriculum for reading. We meet Alabama Course of Study standards and we emphasize individual and small group instruction.
Calendar
WILLOWBROOK WEE CALENDAR 2021-2022
Student Drop-in & Parent Orientation – Thursday 8/5
– 9:00-9:30 Classroom Drop-in
– 9:30-10:30 Parent Orientation (Willowbrook Venue)
First Day of WEE – Monday 8/9
Labor Day – Monday 9/6
Fall Break – Mon. 10/4 – Fri. 10/8
Veterans Day – Thursday 11/11
Thanksgiving Break – Mon. 11/22 – Fri. 11/26
Christmas Break – Fri. 12/17 – Tues. 1/4
– Last day of school – Thursday 12/16
School Reopens – Wednesday 1/5
Martin Luther King Day – Monday 1/17
Presidents' Day – Monday 2/21
Spring Break – Mon. 3/14 – Fri. 3/18
Last Day of WEE – Thursday 5/19
Kindergarten Graduation – @ 9:00 Friday 5/20
NOTE: Our weather make up days will be the same as Huntsville City Schools. If unneeded, these days will be school holidays.
School days that are cancelled due to the Governor declaring a State of Emergency are not made up either by Huntsville City Schools or WEE.
Praise
A few comments from parents.
For parents who are searching for a safe, loving, Christ-centered, and academically excellent preschool or kindergarten program, WEE is the place! WE have had 4 children attend WEE from MOMs through kindergarten, and we cannot say enough good things about this wonderful school. The facilities are beautiful and immaculate, the teachers are happy and love what they do, as well as all the children they serve. Mrs. Still is a truly exceptional director – wise, kind, organized and an authoritative advocate for all the sweet children in her care. I could go on and on – suffice it to say that WEE is the best! — Laura (parent of 2 current students)
WEE is an outstanding choice for pre-k education. The teachers are loving and keep my daughter engaged and learning. I love asking her about what she learned that day, and she loves telling me! — Ben
What a wonderful foundation this has been for my daughter! WEE is such a blessing to this community and our family. Thank you for all the love, guidance and happy memories the WEE staff has given to her! — Lori
Thank you for making WEE a place that we have all loved. It has been wonderful knowing that when I dropped them off each day, that they were in a warm, loving environment where they felt safe, where they could learn and play, and where God came first. – Laura
Willowbrook WEE has been an important addition to my boys' spiritual, academic and social growth. Your administration and teachers present a loving Christian environment that promotes a safe, family-oriented atmosphere. You have gone above and beyond to provide a nurturing experience for my boys and I will truly miss our WEE family as my youngest graduates to grade school next year! – Kimberly
I can't tell you what a blessing this preschool has been to us. You've lovingly cared for my girls every day and I never hesitated to leave them as I knew they were learning, having fun and being loved. – Kacey
Thank you for creating a fun, safe environment for my children at WEE! I have never once worried about the safety of my kids while they were in your care. The staff is second to none and I've always known that my children were loved. – Kerry
Willowbrook Church focuses on sharing the love and work of Christ in our church body, community, and across the globe.